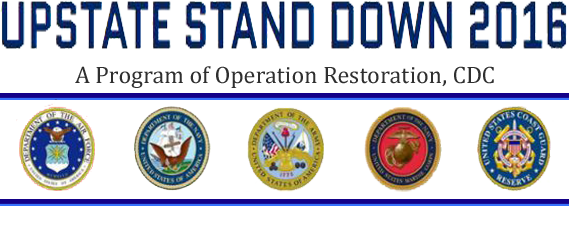 Stand Down represents a unique, community-based response to a human need not being met by traditional means. Stand Down is a community of volunteers and participants brought together in a spirit of caring and respect to inspire hope and invigorate the will of homeless veterans, veterans at risk for homelessness and veterans in need. The major goal is to provide a vast array of opportunities, services and warm inviting person-to-person contact, so each veteran can muster the individual, internal energy and initiative needed to renew and/or rebuild his or her life.
Changes in individual lives, as well as Community Awareness and Commitment, are the most enduring outcomes of Stand Down.
Please Join Us
OCTOBER 14, 2016
Spartanburg Expo & Event Center
9:00 AM to 4:00 PM
0900 to 1600

Without You, our Dedicated Agencies and Sponsors, the 
Upstate Stand Down would not be possible!

Access Health
Addus HomeCare Inc.
Alston Wilkes Society
Altrusa
American Legion American Legion Post 28
American Legion Aux. Unit 28
American Legion Post 48
American Leg. Aux. 48
American Red Cross
Appalachian Council of Governments
Armed Forces Services Corporation
Army Reserve
Assertive Community Treatment  Greenville Mental Health
Benjamin J. Poli
Blue-Cougar
Broad River Electric  (Hilarity for Charity fundraiser)
Buckeye Military Moms Chapter 9
Bubeez Bargains / Ron Brisinger
Chrissy Amstuz,
Cross Country Tours
Church and Chaplain Services
D.U.H. BARBER SHOP
Disabled American Veterans Chapter 3 Spartanburg, SC
Department of Employment & Workforce
Department of Veterans Affairs Regional Office
Department of Social Services
Disabled American Vets Chapter 3
Divine Ultramodern Haircuts Barber Shop
Dorn VAMC
Department of Social Services
Eligibility Screening Services/Mary Black
E-P Equipments, USA Corporation
Eplee & Associates Marketing, Inc.
Event Rentals
FedEx Ground
First Baptist Church of Asheville,
First Light Home Care
Furman University
Gideons International
GOPC Veteran Affairs Clinic HUD/VASH
Gordon Consulting & Counseling
Greenville VA Outpatient Clinic
HAIR BIZ
Hope Church Celebrate Recovery
Hope Remains Ranch
Jeans Bus Service of Greenville
Kay's Cut & Style
Knights of Columbus
Knights of Columbus 6076
Limestone College
Lowes of Spartanburg
MCCC Veterans Transitional Housing
Medi Home Hospice
Nancy Cooper
Operation Restoration Welcome Home Veterans Program
Patriot Hospice
Patriot Living
Pelham Medical Center
Permanent Supportive Housing
Piedmont Care, Inc
Point Man International Ministries
 Retired Na Senior Volunteer Program (RSVP) - United Way of the Piedmont
ReGenesis
SC Department of Employment and Workforce
SC Thrive
 Salvation Army
Service Member Family Care
Sherman College of Chiropractic
South Carolina Department of Mental Health/ Spartanburg Area Mental Health Center
South Carolina Legal Services
Southeast Transportation
Spartanburg Blue Star Mothers
Spartanburg County Veterans Affairs
Spartanburg Housing Authority
Spartanburg Regional Foundation
Spartanburg Regional Hospice
Spartanburg Regional Post-Acute Division
Spartanburg Southside Lions Club
Spihn
The Housing Authority, City of Greenville, SC
United Housing Connections
UpstateHomes.com  Realty
Vietnam Veterans of American 1049
Veteran Services Commission, Inc
Victory Ministries
Vocational Rehabilitation
Volunteer, Agency and Registration Coordinators
WJB Dorn VA
Young Transportation and Tours of Asheville