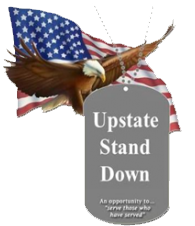 OPERATION RESTORATION CDC
UPSTATE STAND DOWN
ABOUT US
Operation Restoration CDC has been a 501 c (3) for more than 24 years.Recently it amended it's non-profit status to include the program known as Upstate Stand Down (2014). Upstate Stand Down is a part of the Veterans Welcome Home Program which operates a seven (7) room transition home for homeless veterans along with the Upstate Stand Down event.
The Upstate Stand Down was started in 2011 as a means to offer a one day program for homeless veterans and those veterans in need and their families. The aim was to offer services for this population in one place. The services include social services (DSS, Food Stamps, Veteran Benefits); housing (transitional and permanent); mental health services; health services (dentistry, optical, hearing, vaccinations, flu shots, diabetes testing, blood pressure tests, etc.) ; employment services and; clothes and outdoor equipment for those who were living outdoors. This was done through the assistance of the American Red Cross, United Way, various colleges (Wofford, Converse and Limestone Colleges), City and State agencies. The Benefits Bank (now called SC Thrive), Salvation Army and vendors throughout the Spartanburg/Greenville community. All services including those provided by the Veterans Administration in Spartanburg and Columbia are and have been free of charge to veterans and their family members.
All services are on an all volunteer basis, though we have accepted donations from agencies and the Spartanburg Regional Foundation and other foundations in our area. We also receive many in-kind donations from retail markets (which are all eligible for a tax deduction as per our 501 c (3)). We are registered and listed on the Veterans Administration website as being an authorized Stand Down participant and have been since 2011. We have currently served more than 1600 veterans at our Upstate Stand Down events to date.